A priest called Félix Velarde was the first to cultivate Coffee in Costa, in 1816, he made reference to having a plot of land cultivated with the beans.

Juan Mora Fernández and Braulio Carrillo, the first two Heads of State, widely supported the development of the coffee enterprise.  They envision this grain as a product that was capable of stimulating economic change for Costa Rica and by 1821 there were 17,000 coffee trees in production. The exportation of coffee to the United States  began in 1860.

Some key moments for Costa Rican coffee were:
821:  The Municipality of San José distributed free coffee plants among residents
1825:  The Government exempts coffee from tithe payments
1831:  The National Assembly decreed that any one who grew coffee for five years on idle land could claim the land as their own
1943:  a shipment of 5,005 quintals of coffee was sent from Puntarenas (Pacific Coast) to London, becoming on of the most representative exports. Afterward, other freighters full of coffee set sail to England, which marked the success of the coffee trade

Coffee has been a fundamental pillar of the society and a driving force behind development and the national economy in Costa Rica.  This is the reason why  it has been called the "golden bean."  It brought an economic, social, and cultural surge.  Thanks to coffee Costa Rica was able to make many improvements in the country:
The Federal Debt was paid.
The postal service.
First Government printing office.
San José Hospital.
San Juan de Dios Hospital.
Santo Tomás University.
National Theatre.
First Libraries
Opening and improvement of roads and railroads
Development of the banking system

Resulting from the commercial production of coffee, the quality of life was greatly improved for the small and medium Costa Rican producer, now, they had access to a number of goods and services like education, communication, and health.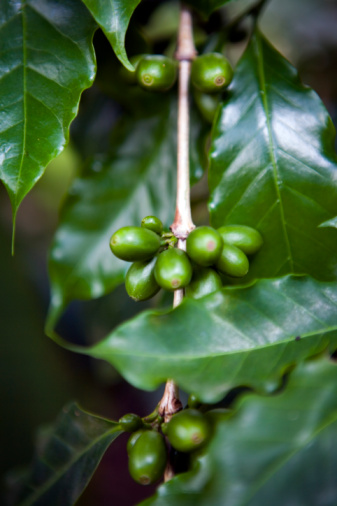 Interesting Facts
The planting of coffee Robusta has been prohibited by law since 1989 because of its inferior cup quality
Our coffee is grown in volcanic and low-acidic fertile soil, conditions ideal for production
100% of our coffee comes from the Arabica specie
80% of the coffee area is located between 800 and 1,600 meters (2,625 feet-5,250 feet) above sea level and in temperatures between 17 and 28ºC(62.6ºF-82.4ºF), with annual precipitation between 2,000 and 3,000 millimeters (79 inches-118 inches)
Costa Rican coffee is grown in 8 production zones: Brunca, Turrialba, Tres Ríos, Orosi, Tarrazú, the Central and Western Valleys and Guanacaste
The manual and selective method of picking is used: only ripe berries are selected (at optimal ripeness)
Each Costa Rican coffee region signed a Quality Improvement Agreement in which the owners of the processing plants have committed to receive and process only ripe fruit, which guarantees better cup quality
The Costa Rican coffee sector only uses wet processing, in which the removal of the pulp is done the same day that it is harvested
The sun-dry method is used in the Costa Rican process, one of the more preferred systems of the demanding world markets; the process lasts 7 days
Mechanical drying is also used, which reduces the precise optimal drying time (12% humidity) to only 24 hours